Faire défiler nos Produits et Services
Cours de communication en Français
l'action d'enseignement  et d'apprentissage du  FLE au centre Victory Partners est articulée sur quatre grands axes.
       1-Des programmes d'apprentissage sur mesure
       2-l'approche actionnelle
       3-de merveilleux outils et supports pédagogiques
       4-l'évaluation
L'apprenant est motivé et impliqué dans l'action d'apprentissage grâce à des situations authentiques, les supports pédagogiques sont très variés, outre le manuel et ses outils pédagogiques, vous trouverez des enregistrements très variés : des reportages, des dialogues, des émissions radiophoniques, des journaux télévisés, des activités phonétiques………etc.
L'apprenant découvre et s'approprie le contenu d'une manière progressive
Chacun de plusieurs dossiers  constituant  le programme est clôturé par une évaluation formative, les apprenants subissent aussi une évaluation sommative.
Les 2 types dévaluation permettent au professeur d'estimer l'écart entre ce qui a été réalisé et ce qui avait été fixé avant pour prendre les mesures nécessaires et agir autrement s'il le faut
Pour cette nouvelle pratique de la classe, le centre Victory Partners dispose de merveilleux outils et supports pédagogiques :
       -le manuel et ses différents outils pédagogiques
       -le CD, ROM encarté.
       -le manuel numérique enrichi contenant tous les dossiers du livre de l'élève, CD,ROM,l'audio classe, cahier d'activité ;
       -le tableau interactif permettant de bien exploiter les outils cités
Communication course in English
At Victory Partner, we pride ourselves in offering a study package to cater for all of your needs. Not only are our English courses so varied as to attract students at every level from Beginners to Proficiency, but they also cover many specialist areas to suit every student's individual learning goals.
All our English teachers are qualified, experienced and will provide good quality lessons at all levels. They constantly develop teaching materials to meet their current students' needs.
Our range of courses is designed to meet the needs of a wide range of students. You can study general English at any level from Beginner to Proficiency. You can also study a specialist course such as Business English. Our teaching method is consolidated and simple, it helps students to learn the language quickly and to use it with ease in the different real-life situations. There is something for everyone here.
The academic year is divided into three sessions: fall, winter, and spring. Each session lasts three months and ends in a test. Add to this accelerated classes to be offered exclusively over the summer.
Registering for our classes is easy and convenient. You will take a placement test on your first day to determine your class level. The objective for implementing homogeneous placement is to increase students' achievement by providing instruction at their present academic level. At the end of the course, a certificate of completion will be issued.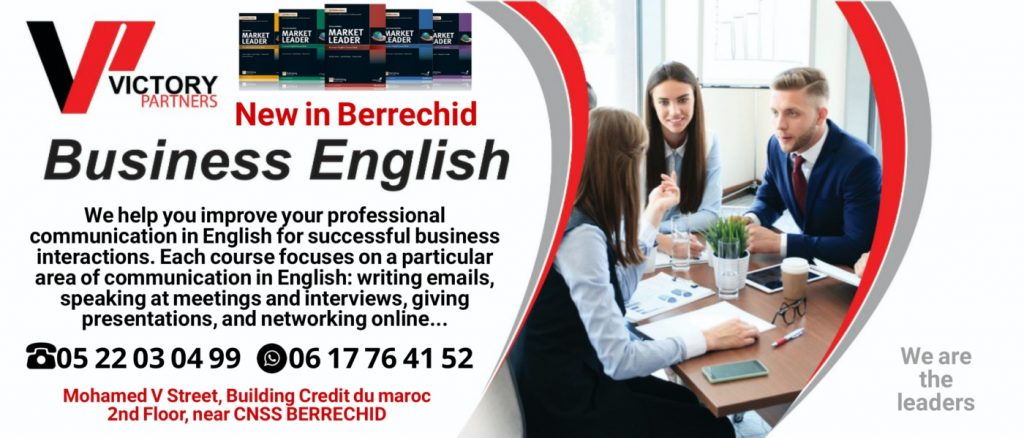 Victory partners language school helps you improve your professional communication in English for successful business interactions. Each course focuses on a particular area of communication in English: writing emails, speaking at meetings and interviews, giving presentations, and networking online. Whether you want to communicate to potential employers, employees, partners or clients better. Victory partners can help you to achieve your language and professional goals. The Capstone course will focus especially on making those important connections to take your career or business to the next level. Make yourself more competitive by improving your English through this Specialization: Improve Your English Communication Skills.
The Bussiness english in Victory parners will cover the following key areas:
-Increase your confidence when communicating in English in a professional environment.
-Help you to use English more effectively at work.
-Help you to speak more accurately and fluently in English.
-Improve your English grammar.
-Increase your English vocabulary.
PRESENTATION DU CENTRE VICTORY PARTNERS
Cours de communication Français -Anglais
Cours d'informatique Bureautique 100% pratique
gestes barrières covid 19- saison 2020-2021